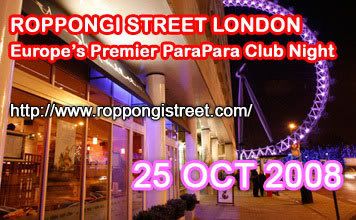 I'm very pleased to announce the next Roppongi Street night will be taking place on 25th October in the fantastic Slug and Lettuce venue. Located in Waterloo, London beneath the shadow of the London Eye.
Following on from a hugely succesful first night in July, Octobers Roppongi Street promises to be bigger and better. Featuring all the classic and latest eurobeat songs, as well as J-pop and J-rock this promises to be a night not to be missed!
So what can you expect there?
* Eurobeat para dancing
* Techno para dancing
* J-pop and J-rock sets
* Roppongi Street Vol 02 DVD release
* Lessons of some the latest routines from Japan
* Team exhibitions
* Begginer lessons at the start of the night
* Great food and drink
* A cracking good time
* Special guests from the eurobeat and para world TBA
The important details:
Roppongi Street, Saturday October 25th, London, Waterloo
6:30pm - 12:30am
Entrance - £5
Map
So if you are into parapara, would like to learn, or just want to have a fantastic night out, Roppongi Street is the place to be. If you require any information at all please e-mail us at:
roppongistreet@club-fever.co.uk
Vist our official site and forum for further updates.
Yes we go to Roppongi Street!